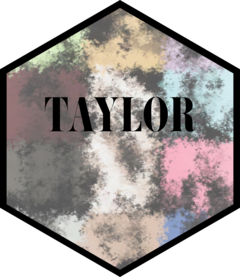 Color palettes based on Taylor Swift's albums
Source:
R/taylor-album-palettes.R
album_palettes.Rd
Premade color palettes based on Taylor Swifts album covers. For details on how to extend and shorten these palettes, or create your own color palette, see color_palette().
Format
A list of length 12. Each element contains a color palette for one of Taylor Swift's studio albums. The list elements are named according to the name of the album.
An object of class taylor_color_palette (inherits from vctrs_vctr, character) of length 12.
Examples
album_palettes




#>

 $taylor_swift


#>

 <color_palette[5]>


#>

  

  

 #1D4737 


#>

  

  

 #81A757 


#>

  

  

 #1BAEC6 


#>

  

  

 #523d28 


#>

  

  

 #E7DBCC 


#>

 


#>

 $fearless


#>

 <color_palette[5]>


#>

  

  

 #6E4823 


#>

  

  

 #976F34 


#>

  

  

 #CBA863 


#>

  

  

 #ECD59F 


#>

  

  

 #E1D4C2 


#>

 


#>

 $fearless_tv


#>

 <color_palette[5]>


#>

  

  

 #624324 


#>

  

  

 #A47F45 


#>

  

  

 #CAA462 


#>

  

  

 #C5AA7C 


#>

  

  

 #EEDBA9 


#>

 


#>

 $speak_now


#>

 <color_palette[5]>


#>

  

  

 #2E1924 


#>

  

  

 #6C3127 


#>

  

  

 #833C63 


#>

  

  

 #D1A0C7 


#>

  

  

 #F5E8E2 


#>

 


#>

 $red


#>

 <color_palette[5]>


#>

  

  

 #201F39 


#>

  

  

 #A91E47 


#>

  

  

 #7E6358 


#>

  

  

 #B0A49A 


#>

  

  

 #DDD8C9 


#>

 


#>

 $red_tv


#>

 <color_palette[5]>


#>

  

  

 #400303 


#>

  

  

 #731803 


#>

  

  

 #967862 


#>

  

  

 #B38468 


#>

  

  

 #C7C5B6 


#>

 


#>

 $`1989`


#>

 <color_palette[5]>


#>

  

  

 #5D4E5D 


#>

  

  

 #846578 


#>

  

  

 #92573C 


#>

  

  

 #C6B69C 


#>

  

  

 #D8D8CF 


#>

 


#>

 $reputation


#>

 <color_palette[5]>


#>

  

  

 #2C2C2C 


#>

  

  

 #515151 


#>

  

  

 #5B5B5B 


#>

  

  

 #6E6E6E 


#>

  

  

 #B9B9B9 


#>

 


#>

 $lover


#>

 <color_palette[5]>


#>

  

  

 #76BAE0 


#>

  

  

 #8C4F66 


#>

  

  

 #B8396B 


#>

  

  

 #EBBED3 


#>

  

  

 #FFF5CC 


#>

 


#>

 $folklore


#>

 <color_palette[5]>


#>

  

  

 #3E3E3E 


#>

  

  

 #545454 


#>

  

  

 #5C5C5C 


#>

  

  

 #949494 


#>

  

  

 #EBEBEB 


#>

 


#>

 $evermore


#>

 <color_palette[5]>


#>

  

  

 #160E10 


#>

  

  

 #421E18 


#>

  

  

 #D37F55 


#>

  

  

 #85796D 


#>

  

  

 #E0D9D7 


#>

 


#>

 $midnights


#>

 <color_palette[5]>


#>

  

  

 #121D27 


#>

  

  

 #5A658B 


#>

  

  

 #6F86A2 


#>

  

  

 #85A7BA 


#>

  

  

 #AA9EB6 


#>

 





album_compare




#>

 <color_palette[12]>


#>

  

  

 taylor_swift 


#>

  

  

 fearless 


#>

  

  

 fearless_tv 


#>

  

  

 speak_now 


#>

  

  

 red 


#>

  

  

 red_tv 


#>

  

  

 1989 


#>

  

  

 reputation 


#>

  

  

 lover 


#>

  

  

 folklore 


#>

  

  

 evermore 


#>

  

  

 midnights 





album_palettes

$

evermore




#>

 <color_palette[5]>


#>

  

  

 #160E10 


#>

  

  

 #421E18 


#>

  

  

 #D37F55 


#>

  

  

 #85796D 


#>

  

  

 #E0D9D7